ONIONS PRODUCTION 101
ONIONS PRODUCTION
 Introduction
Onion (Allium cepa Linn), belonging to the Amaryllidaceae family [1], is an important vegetable crop and one of the most widely used ingredients for condiments in sauces, stews, and soups. Between 2010 and 2018, the average annual global production of dry onion was 89.18 million tonnes (t), with an average annual yield of 18.74 t/ha (ha)
Background
Bulb Onion is one of the

most widely grown

&

consumed vegetables

in Nigeria 

It is a biennial plant but considered an annual because it is harvested in its first growing stage

It is a profitable crop. However, it requires a lot of labor during transplanting and weeding

It is an important spice for foods when cooked or served raw

Used to make pickles or chutneys

It is rich in

Calcium

,

Iron

,

Potassium

,

Vitamin B6 & B9

,

Vitamin E

and has

medicinal properties
Variety Selection
There are about five main onion varieties grown in Nigeria. They are:
Red Creole: This variety is a brilliant reddish, medium-sized flattened bulb of onions. It is the most popular variety in Nigeria due to its size and longer shelf-life. It usually produce one onion bulb per plant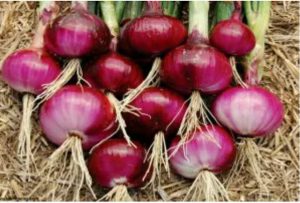 Bombay Red: This variety originated from India. It survives both dry and warm weather conditions. It is globe shaped, purplish red and pungent. It does not mature quickly
.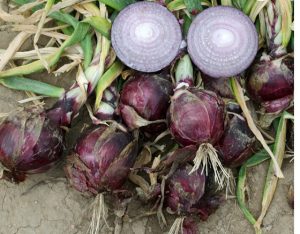 White Creole: It is a short (white) onion variety that produces onions with exceptional great keeping quality. It has small to medium bulb sizes with a pungent smell. It is good for dehydration, suya and salad preparations.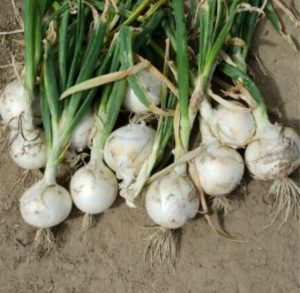 Red Tropicana F1 Hybrid: This is an improved breed. It's resistant to common fungi diseases, and does well in dry weather conditions. It is high yielding, produces many bulbs per plant. It is the largest with pungent flesh compared to other varieties. It requires special farm management practice, and it has a short shelf life, therefore, requires special storage.
Cherry Mountain F1 Hybrid: Cherry Mountain F1 Hybrid is a large, brilliant coloured, dark red Grano onion with excellent storage capabilities. This variety produces round bulbs that are uniform in shape with a refined neck. Highly single centered. Ideal for a fresh market. It is planted before the rains set in.
Optimal Ecological Requirements
Altitude

0 – 1,900 meters above sea level

Rainfall

500 – 700 mm of rainfall annually

Growing Temperature

15 – 30 0C

Soils

• Fertile and well drained soil

• pH range 6.0 – 6.8
Altitude

: Onion can be cultivated up to 1,900 m above sea level

Rainfall

: Onions require well-distributed rainfall of between 500 and 700 mm during the growing period. Dry spell is needed at maturity.

Temperature

: The optimum temperature for growth is 15 – 30 0C. If the temperature exceeds 30 0C, maturity is hastened & small bulbs are produced, consequently lowering the yields. When the temperature is low, growth is slowed or the plant may result in flowering. Cold weather is also associated with increased leaf diseases.

Soil

: Onions require fertile and well-drained soil. The optimum pH range is 6.0 – 6.8. Sandy to silty loams with fine tilth are adequate.
Composting 
During compost making, the organic matter need to be covered to prevent leaching of nutrients 

Bulb Onion is a heavy feeder and does well in soils with high organic content (manure) 

Based on the results of the soil analysis, prepare adequate compost for application 

The recommended rate of application ranges from 10 – 16 tons per acre for Bulb Onion 
 Basal Application 
 Manure incorporation as a basal application 
Basal Application: 
The manure/compost should be broadcasted (10 – 16 tons per acre) then worked into the soil (incorporated) preferably using a hoe 

Manure/compost should be applied at least 1 – 2 weeks before transplanting the Bulb Onions 

Onions respond very well to well decomposed organic manure 
A Bulb Onion nursery 
Raising Seedlings 
Onion is propagated by seed (fresh) 

Seed rate is 0.8 – 1.2 kg per acre and is sown in a nursery under a mulch cover 
Nursery Establishment: 
Prepare beds maximum 1 m wide and incorporate well-decomposed compost /FYM 20 kg/m2 and add DAP/TSP 20 g/m2 

Make rows about 15 cm apart, drill the seed thinly in 1 cm furrows and cover lightly with soil and mulch 

Germination takes 7-10 days 
Nursery Management: 
Irrigate the nursery bed regularly 

After the seed emerges, remove the mulch 

Prepare a raised cover 

Manage weeds, pests and diseases
Transplanting 
Recently transplanted Bulb Onion seedlings 
Transplanting 
Appropriate Time 
Seedlings are transplanted 6 – 8 weeks after sowing or at 3-5 well formed leaves when base is pencil thick 
Recommended Spacing 
The seedlings are transplanted in 2.5 – 3 cm deep trenches at a spacing of 30 cm between rows and 8 – 10 cm between plants (when using furrow irrigation) 
Transplanting Method 
Soil analysis results should be used to determine the nutrient requirements of the soil prior to planting 

Irrigate the seedbed prior to pulling out the seedlings 

Apply 80 kg/acre of TSP 

Irrigate field well a day before transplanting 

Carefully pull out the seedlings to avoid damage 

Cut off 50 per cent of the green tops to hasten take off 

When planting onion sets, don't bury them more than one inch under the soil 
Water Requirement 
Onions require light and frequent irrigation: 

  At the growing stage: excessive moisture must be avoided 

  At the bulbing stage: need a substantial amount of water 

  Watering should be reduced/discontinued towards bulb maturity 

Lighter soils need more frequent water applications, but less water applied per application 

Increase the water application as plants and roots increase in size 

Proper moisture management is important in 

  Alleviating "Pink Root" 

  General root health 

  Vigorous bulb growth 

Drought stress will cause splitting or formation of double/ multiple bulbs 
Bulb Onion Seedlings Under Irrigation 
 Strip/banding top-dressing of Bulb Onions 
Top-dressing 
Soil analysis results should be used to know the 
nutrient requirements of the soil prior to planting 
Top-dressing can be done in 2 splits 
1st Top-dressing: 30 days after transplanting at 40 kg/acre of CAN 
2nd Top-dressing: 45 days after transplanting at 80 kg/acre of CAN 
Strip/banding method is preferred over broadcasting as it is more effective 

Too much nitrogen results in thick necks 

Top-dressing should be completed before initiation of bulbing 
Unearthing: 
Unearthing is removal of excess soil around the bulb/loosening soil to allow the bulb to expand or develop well 

Unearthing can also facilitate the coloring and curing 

If the soil is hard during bulb formation, loosen the soil to allow bulbs to develop well 

Unearthing is carried out during 2nd and subsequent weeding and is done by removal of the soil from the bulbs by hand 

Watch out not to damage or expose the roots 
Major Pests 
Pest damage causes a reduction in quality and quantity of produce 
The following are the major pests of Bulb Onion : 
Onion Thrips 

Onion Fly 
Onion Thrips 
Onion Thrips Identification: 
Adult thrips are small (0.5 – 2.0 mm), slender and winged 

Wings are long, narrow and fringed with long hairs 

Nymphs are white or yellow 

Both adults and nymphs feed on the base of the plant within the leaf sheaths 
Damages: 
Attacked leaves have sunken silvery patches 

Under severe attack, the entire plant appears silvery and later the leaves wither, dry up and die 

The pest excreta appears as black spots on the silvery leaves 
Control: 
Keep plants well irrigated since water stressed plants are more susceptible to thrips damage 

Maintain weed-free plots 

Rogue heavily infested plants 

Neem extracts can be sprayed on attacked plants 

Spray with insecticide, such as Spinosad (Tracer®), Abamectin + Acetamiprid (AMAZING TOP 100 WDG® PHI:21 days), Acephate (ASATAF SP® PHI: 3-7 days) 
Onion Flies 
Onion Flies Identification: 
The onion fly maggots measure 8 mm long and are white cream in color 

They are the most destructive stage of the fly 
Damages: 
They eat the lateral roots causing tunnels into the taproot, plants become shriveled or eventually die 

They are also found inside developing onion bulbs and their feeding exposes the plant to infection by diseases like Bacterial Soft Rot 
Control: 
Practice crop rotation 

Use well decomposed manure/compost 

Practice field sanitation: remove and destroy infested plants 

Carefully plough in crop residues immediately after harvest 
Major Diseases 
Disease infection leads to reduction in quality and quantity of produce 
The following are the major diseases of Bulb Onion in Nigeria : 
Onion Downy Mildew 

Purple Blotch 

Rust 

Pink Root 

Neck Rot 
Onion Downy Mildew 
Symptoms of "Onion Downy Mildew" infection on a Bulb Onion leaf 
General Descriptions: 
The disease is caused by a fungus 

It is prevalent in cool, humid and poor drainage conditions 
Symptoms: 
Formation of lesions near the tips of the 
older leaves, 
Yellow patches covered with gray wet 
fields 
Leaf tips shrink, turn pale brown and later die 
Control: 
Field hygiene 

Crop rotation 

Use tolerant varieties e.g. Red Pinoy F1 

Use of fungicides e.g.) Mancozeb (Cadillac®, Dithane M45® etc.) 
Purple Blotch 
Purple Blotch General Description: 
The disease is caused by a fungus 
Symptoms: 
Small white spots on the foliage 

Under moist condition, the spots rapidly increase to large purplish blotches often surrounded by a yellow to orange border 

Lesions extend to girdle the leaf which leads to its collapse 

Infection may spread to the bulb, where it may cause a wet, 
orange rot starting at the neck Control: 
Use resistant varieties e.g. Red Passion F1 and Red Pinoy F1 

Crop rotation 

Field Sanitation: remove crop remains after harvest, do not leave volunteer plants in the field 

Avoid over fertilization 

Recommended spacing and good drainage to decrease humidity in the plant stand 

Use of fungicides such as Mancozeb (Dithane M45®) Difenoconazole ( Domain 25% EC®), 

Propineb + Cymoxanil (Milraz WP 76®) 

Eugenol (e.g. Explorer 0.3 SL®) 
Rust 
Symptoms of "Rust" infection on a leaf of Bulb Onion 
General Description: 
The disease is caused by a fungus 

High humidity, high temperatures and dense plant population favor the disease development 
Symptoms: 
Small reddish dusty spots (pustules) on leaves 

Heavily infected leaves turn yellow and die prematurely 
Control: 
Crop rotation 

Application of proper agronomic practices: proper nutrition and spacing 

Use of fungicides: 

 Mancozeb (Dithane M45) 

  Difenoconazole (Domain 25% EC®) 

 Eugenol (Explorer 0.3 SL®) 
Pink Root 
Infection with "Pink Rot" on the roots and leaves of a bulb onion 
Pink Rot Symptoms: 
Similar to nutrient deficiencies or stress associated with extremely dry conditions 

Light pink to yellowish-brown discoloration on roots that becomes dark pink then red and eventually purple 

Under advanced stages, roots eventually shrivel, become brittle and die 
Control: 
Good management practices that reduce 
plant stress 
Crop rotation 

Use tolerant cultivars e.g. Red Passion F1 
Neck Rot 
Bulb Onion "Neck Rot" Symptoms 
General Descriptions: 
Disease visible when onions are in store 

Caused by a fungus which enters the onions through wounds or cracks in the fleshy neck part of the bulb. 
Symptoms:
Top part of the bulb will turn browner and the skin will be darker brown. 

Top of the bulb will be softer than the lower parts. 

Gray mold and sometimes speckled with small black spots will appear, and the bulbs will deteriorate even further. 
Control: 
Use fungicide treated seeds or sets 

Avoid damaging onion bulbs at or during harvest 

Don't bend over foliage to hasten drying out 

Only harvest onions when the necks have ripened and fallen over on their own accord. 

Avoid using high nitrogen fertilizers 

Crop rotation at least 3 years 

Dry the bulbs out thoroughly after harvest 

Good ventilation is more important in the drying process than the sun. 

Store only bulbs with dried out thin necks 

Store bulbs in a cool and dry place 

Sort out bulbs which show signs of rot. 
Harvest 
Harvesting can be done 90 – 150 days after transplanting depending on the variety 

Bulb Onions are ready for harvesting when the leaves collapse or when 75 % of the tops of the crop have dried and fallen over 

Leaf tops begin to discolor, bend and dry towards the ground 

Reduced thickness of sheath leaves surrounding the bulbs (papery membranous cover) 
Post-Harvest Handling And Curing 
What is "Curing"? 
Curing is a technique used to remove moisture from bulb necks and outer leaves. 
The main objective is to prevent moisture loss in order to extend shelf life and fend off disease attacks. This can be accomplished in the field or in a protected area away from inclement weather, such as rain or direct sunlight. 
Field Curing 
Curing can be done in the field if the maturity and harvesting coincides with dry months 
Harvested onions are placed in rows with leaves partially covering the bulbs to prevent sunburn or greening 
Onions are then left in the field until the outer leaves and neck are completely dry and papery 
Field curing can take 2 – 3 weeks depending on the environmental condition 
Protected Curing 
Drying of Onions in a protected environment 
Curing is done in a warm, dry and well ventilated location protected from direct sunlight and rain 
The process involves the following: 
 Removal of excess soil 

Trimming of foliage leaving 2.5cm of section of stem at neck 

 Placing onions in single layer in large flat tray 

Onions can also be cured by tying tops of bulbs in bunches and hanging on a horizontal pole in well ventilated shade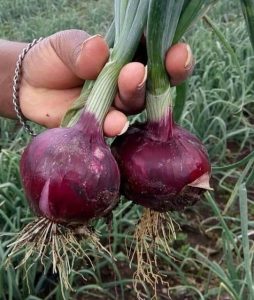 Sorting 
Bulb onions are sorted to get rid of the following things before storage: 
  Onions with thick necks 

  Onions which have bolted 

  Injured onions 

  Decayed onions 

  Doubles and small bulbs 
Grading 
Before and after storage, grading needs to be completed.
 Onions are graded three times for the domestic market: large, medium, small. 
 Bulbs must be: 
 Intact with firm flesh which is not exposed 

  Clean and free from visible foreign matter 

  Sufficiently dry with the first two outer skin and stem fully dry 

  Free from abnormal external moisture 
Containers & Packaging Materials 
Bulk onions should be packed or stored in containers with good ventilation, like onion nets. 
Marketing
In Southern Nigeria, there is a ready market for onions. Nigeria produces 75% of its onions, which are consumed in the south. The remaining 99% of the onions are grown in the north and exported down the nation. Producing in the South brings you closer to the market, which lowers marketing expenses and waste. More profit results from this. Additionally, Northern produce (the Northern off-season) matures before Southern produce. At this period, onion is usually scare and costly. 
It is simple to sell onions. You can sell to distributors, off takers, or at retail markets that are dotted throughout South Africa that offer fresh farm produce.
Nigerian onions may be grown profitably because of the favourable environment and strong local demand. Expenses include of labour, fertilisers, fungicides, insecticides, and seeds. For those with limited resources, smaller-scale production is advised. Prices per kilogramme can vary from 150 to 200 Naira, while yields can range from 16 to 30 tonnes per acre. Per acre, net revenues might vary from 500,000 to 1 million Naira. The best practises include planting early, harvesting bulbs at local markets, applying drip irrigation, weeding often, curing bulbs after harvest, and taking into account value-added services like packing, grading, and cleaning.